Author: andrewb@proximabiz.com (The Linux Foundation)
Source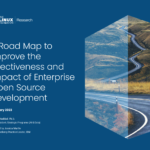 In today's digital age, open source development has become a vital component of software development. With more and more organizations relying on open source software for their operations, it is essential to have an effective and impactful enterprise open source development strategy in place. 
The post 12 ways to improve the effectiveness and impact of enterprise open source development appeared first on Linux.com.