Author:
Source
$0.00
Free with Audible trial
A guide to Project Browser
Maitreayee Bora
Wed, 10/19/2022 – 12:06
To add a new feature to a Drupal website, one needs to find the right module on Drupal.org, download and then add it to the website. 
Surfing over 40,000 Drupal modules is not a smooth task. 
Lack of resources and technical knowledge can turn out to be a challenge in Drupal adoption and usage.
The Project Browser initiative, proposed in DrupalCon Europe 2021, seeks to make this entire process less complicated & user-friendly for website owners & managers. With browsing and installing modules at the click of a button. 
It lets site builders discover and add modules of their choice right away from their own website. To make certain actual-time records access, the component will connect with the Drupal.org API using a decoupled approach.
What is Project Browser?
The concept of Project Browser was first discussed around 2011. Finding and installing modules requires too many steps, and it happens to be difficult for new users. This initiative offers the chance of enhancing Drupal's experience and enlarge the community. 
The minimum viable product (MVP) will deliver users the capacity to browse modules compatible with the Drupal version of their website, give instructions for downloading and installing modules, and also filter modules in regard to category. 
Initially, it was developed as a contributed module, however, now it is planned in Drupal 10 core.
It is planned to automatically set up modules through Composer, add additional filters, include themes and distributions, and include the detail page of the module inside the Project Browser UI rather than linking to Drupal.org.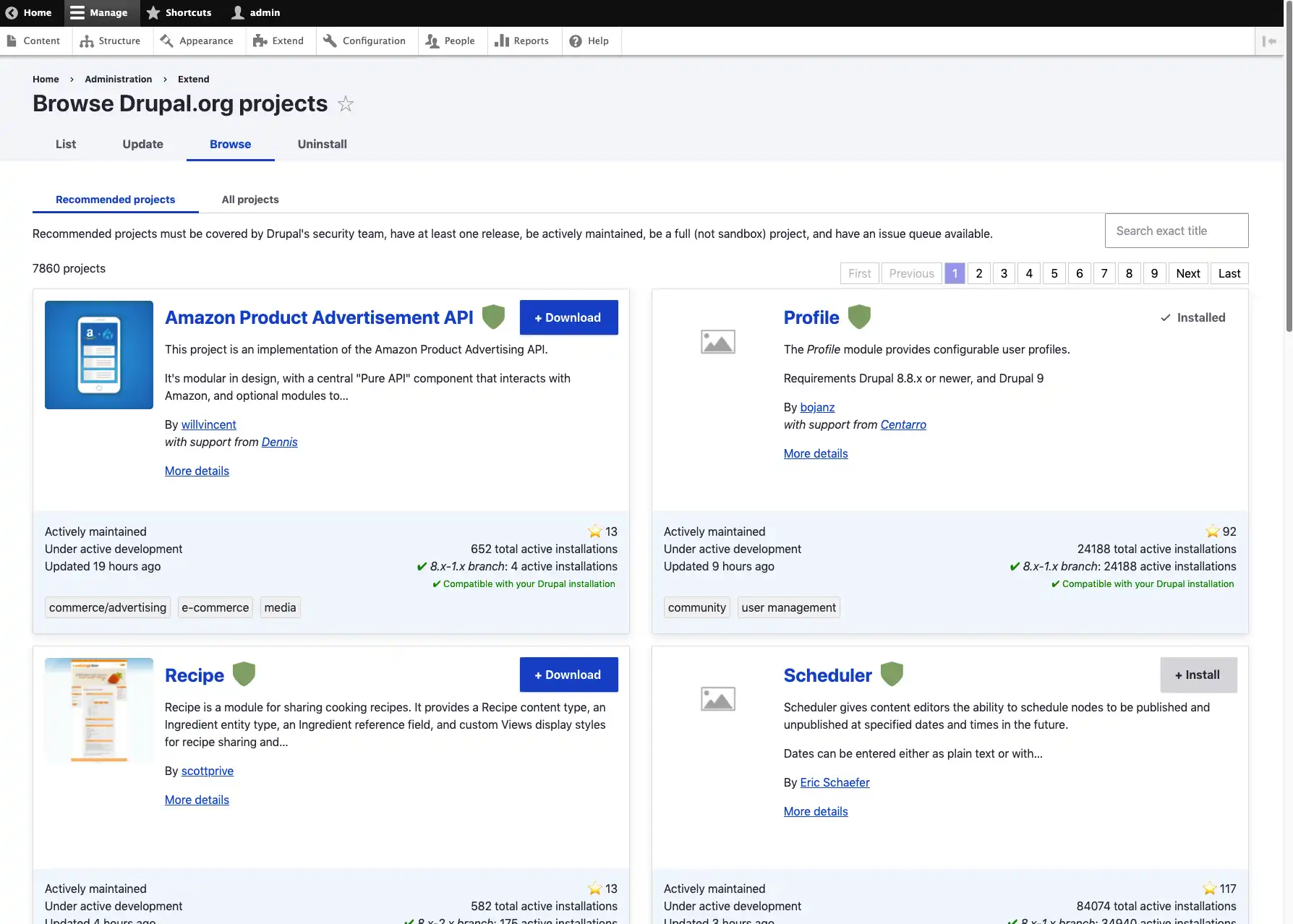 At DrupalCon Prague 2022, during Dries' keynote, he showed a video of Srishti Bankar, who works on the Project Browser initiative. So, the goal of the Project Browser is to simplify the installation of new modules in a project. The user will basically have access to a page within the user interface where they are able to search for modules and use filters such as Maintenance Status or Security Advisory Coverage renovation popularity or safety Advisory Coverage to narrow down the search results.
How does it work? 
The process of using Project Browser is pretty simple. Let's understand it in three easy steps.
Step1- Install the Project Browser module.
Step2- A "browse" tab appears with the "Extend" section of the admin interface.
Step3- One can search through Drupal's modules and find the right one for their use case.
Here is an informative video on Drupal Project Browser Initiative from DrupalCon North America 2021. 
 
Learn more about:
Conclusion
The Drupal community is focused on making the Project Browser easier for all to find and install new functionality on their websites. Project Bowser is one of the key upcoming features for Drupal 10 that is being built as contributed modules. Hence, we look forward to seeing some amazing updates to this module in near future.