Author:
Source
Migrate to Drupal 9 (or 10) Without Losing Your Hard-Earned SEO Ranking
Shefali Shetty
28 Feb, 2023
Website migrations are never an easy decision and we get it. The fear of their SEO rankings being negatively affected often holds site owners back from migrating their CMS or upgrading from an older version. After all, it has been a long and hard process to get your website to the top of Google's search result pages, and you don't want all that effort to go to waste. 
However, this common concern can be addressed and mitigated before and during the migration process. With meticulous planning and a systematic migration approach, a website migration will not affect your SEO. Instead, with a CMS like Drupal that offers SEO and performance optimization techniques, your SEO ranking should see an upward trend.
In this article, we'll discuss why a website migration to Drupal 9 does not have to mean sacrificing your SEO ranking. We'll go through some of the best practices and tips as well as what you need to do if you see a drop in ranking after the migration.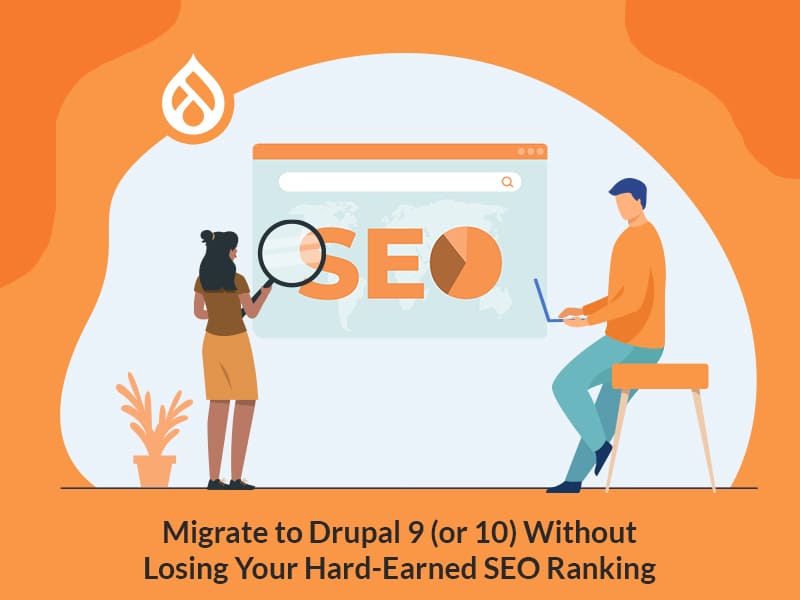 Why Migrate to Drupal 9 (or 10)
Most of our clients migrate/upgrade their CMS to Drupal 9 for one big reason: to fuel their business growth! Drupal 9 offers the high-performance tools and features needed to take your business to the next level.
Let's get started with understanding why migrating your CMS to Drupal is important, especially in terms of SEO:
Upgrading your CMS to the latest version of Drupal will bring more features, stability, and security to your website while also increasing the performance of your site by​​ using the latest technologies. 
Drupal allows for easy management of important on-page optimization elements like meta tags, URLs, meta descriptions, titles and others that are vital to enhance your ranking.
Drupal is SEO-ready straight out of the box! A variety of built-in and contributed SEO boosting modules that can be easily integrated with a Drupal website enhances its indexability. 
Drupal's clean and well-structured code makes it easier for search engines to understand your website's content.
The highly customizable nature of Drupal enables you to tailor it to meet your SEO strategy's specific requirements.
Should you be concerned about a migration affecting your SEO?
A migration involves moving and mapping all your website's content, data, and functionality from an old version to a newer one. It's like charting a new course to a brighter future.  And they are never going to be identical. A CMS migration when done right cannot be a cause for your SEO ranking to get affected. 
Ideally, a website redesign or CMS migration is risk-free when no URL or structural changes are expected. But let's give you a few reasons when you should be concerned:
When you're changing domain names and your new URL structure is completely different than the old one. This can cause search engines to see these pages as new pages and will lose the existing SEO juice.
When internal links are lost during migration due to various reasons like a change in the URL structure, content reorganization or any manual migration errors.
When the content is not migrated properly and leads to duplicate content.
When a migration causes broken links which can lead to bad user experiences and consequently a dip in SEO ranking.
When there are problems with the website's crawlability and indexability because of technical errors during a migration.
SEO Audit – First Step to a Successful Migration
We cannot emphasize enough how important an SEO audit is before a migration. 
Just like you would thoroughly examine and fix your car before a big road trip to ensure a smooth and safe journey, an SEO audit can help you identify and avoid potential technical issues or SEO problems before a migration. It also allows you to plan for redirects, establish a baseline for measuring the impact on SEO performance and ensure current best practices.
What happens during an SEO Audit?
Your ideal Drupal agency should provide you with a comprehensive SEO audit checklist before planning the CMS migration. Read this article to find out how to evaluate a Drupal partner for your next project.
Here are some of the most significant elements that are analyzed during an SEO audit:
Check if robot.txt exists and is configured properly to make the website crawlable
Verify if sitemap.xml exists and is optimized
Clean URLs are enabled for SEO Friendly URLs
Appropriate meta information and tags are present for web pages
Check if structure data is enabled for the site.
Verify if a canonical URL set for all the pages
The titles and descriptions are optimized
Check for duplicate content
Check for broken links
Find out if analytics tools are present on the application for tracking
The Do's and Don'ts
Do: Create a full backup of your website
Before you begin the migration process, make sure to create a full backup of your website to ensure that you have a copy of all your website's files and data.
Do: Benchmark current keyword rankings
Benchmarking old rankings is an important step when migrating a website to a new domain or URL structure. It helps you understand how your website is currently performing in search engines and identify any potential issues that may affect your SEO efforts after the migration.
Do: Benchmark organic traffic levels
It helps you monitor any changes in organic traffic after the migration and allows you to identify any issues that may be affecting your SEO efforts.
Do: Keep the same URL structure
Try to keep the same URL structure of your website, if possible. This will help to maintain the authority of your website and avoid any broken links
Do: On-page optimization
On-page optimization is crucial when migrating a website to ensure that your site is optimized for search engines and user experience. Here are some steps to take for on-page optimization during a website migration:
Update content
Optimize meta elements
Use header tags
Optimize images
Improve page speed
Implement structured data
Do: Use Drupal SEO Modules
Drupal is a popular content management system (CMS) that provides several SEO modules that can help with website migration. Here are some SEO modules you may want to consider when migrating a Drupal website:
Pathauto
Redirect
Metatag
XML sitemap
Google Analytics
Schema.org
Do: Test Contact form, Thank you Page, Conversion code
It is important to test all contact forms, thank you pages, and conversion codes while migrating a website. Here are some tips to help you ensure that these elements are working correctly after the migration:
Test all contact forms – Make sure to test all contact forms on your website to ensure that they are working correctly. This includes testing the form fields, validation messages, and submission process.
Verify thank you pages – Check that all thank you pages are working properly and have the correct URLs. Test them to ensure that they load correctly after form submissions or other actions.
Check conversion codes – If you have any conversion codes installed on your website, such as Google Analytics or Facebook pixel, make sure to check that they are working properly. Verify that the codes are firing correctly on the appropriate pages and that they are tracking conversions accurately.
Update any changes – If you make any changes to your contact forms, thank you pages, or conversion codes during the migration process, make sure to update them on the new website as well. This will help ensure that everything continues to work correctly.
Do: Update sitemap.xml and robots.txt
Update your Sitemap.xml and Robots.txt files to reflect any changes in your website's URL structure. Read more about sitemaps and Drupal's XML sitemap modules here.
Do: Monitor performance
Monitoring a website after migration is an important step to ensure that everything is functioning correctly and to identify any issues that may arise. Here are some steps you can take to monitor your Drupal 9 website's performance after migration:
Monitor traffic and rankings
Check for broken links
Monitor website speed
Monitor server errors
Test forms and conversions
Don't: Delete your old site
We know already mentioned this in our Do's but we can't stress enough how important this step is! Even after the website migration, it is recommended not to delete your old site immediately. There are several reasons why you should keep your old site for a while. Like backup and recovery, content comparison and redirects.
Don't: Move to live before testing/reviewing it completely
It's important to thoroughly test and review the new site before pushing it live to ensure that it is functioning correctly and there are no errors or issues that could harm your SEO. By taking the time to test and review the new site, you can identify and fix any potential issues before they impact your rankings and traffic. Make sure you have completed these activities before pushing it to live:
Checked all links
Verified title tags and meta descriptions
Tested site speed
Verified site structure and content
Tested contact forms
Ensured that all content and pictures are present on the new page
Confirmed URL structure and 301 redirects are set up correctly
Don't: Schedule migration during peak traffic stretches
To minimize the potential negative impact of a website migration, it is generally advisable to avoid scheduling it during peak traffic periods when the site is experiencing its highest levels of user activity. This is because any disruptions to the site's functionality or accessibility during these times could lead to a poor user experience and potentially harm your search engine rankings or revenue. Instead, consider scheduling the migration during a time when traffic levels are typically lower, such as weekends or overnight, to minimize the risk of disruption and ensure a smoother transition for your users.

What happens if there's a drop in ranking after a migration?
Let's get straight to the point. If you notice a drop in your SEO ranking after a migration:
Keep calm. Take a step back and reassess the situation. Many times the drop is temporary because search engines will need to re-crawl your website.
Check if this is happening due to an update in the algorithm
Use Google Analytics to identify the pages that have been affected the most and are getting the least organic traffic
Create a list of those URLs. Analyze these pages for URL structure, broken links, duplicate content, page errors, canonical URLs and other content changes.
Use a page performance testing tool like GTMetrix and check if the performance has been affected. Follow best page speed practices (optimized images, CSS and other files) to fix this issue.
If you have changed your hosting provider along with the migration, find out if there's a performance issue because of the server change.
Make sure all the pages are indexible (at least the ones you want to rank)
Final Thoughts
A successful migration process starts with an in-depth analysis of your current website's structure, content, and code to identify any potential SEO risks. During this analysis, you should also consider factors such as which CMS version you are currently running, the cost and timeline of the migration process, and how to ensure that your SEO rankings remain intact during the transition. Keep checking your index status in the search console to make sure everything is in order once the migration is complete. Finally, it always helps to communicate regularly with your new hosting provider to ensure that all the performance issues are taken care of in a timely manner. 
A CMS migration does not have to negatively impact your SEO ranking. In fact, a migration to Drupal 9 (or 10), can potentially increase your SEO rankings due to the improved speed and performance of your website. If you're looking for a 100% Drupal-first company that specializes in Drupal migrations, then look no further than Specbee. Our certified experts have completed numerous successful migrations to Drupal 9 and can help ensure that your website remains SEO-friendly​​. Contact us today for a free consultation and find out how we can help you migrate with ease.