Author: andrewb@proximabiz.com (The Linux Foundation)
Source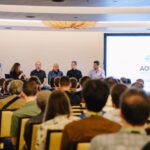 Shortly before SIGGRAPH 2023, the Alliance for OpenUSD (AOUSD) was established, marking a significant development in the 3D technology sector. The alliance includes prominent members like Pixar, Adobe, Apple, Autodesk, and NVIDIA, focusing on standardizing and furthering OpenUSD 3D data specifications and technologies. This collaboration aims to enable 3D interoperability to better enable 3D content creation workflows, industrial digitalization, and graphics experiences such as spatial computing. 
The post The Alliance for OpenUSD (AOUSD): Shaping the Future of 3D Technology appeared first on Linux.com.