Author: andrewb@proximabiz.com (The Linux Foundation)
Source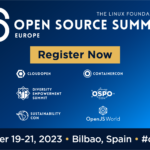 We're less than 2 weeks away from the 12th annual Open Source Summit Europe, the premier European conference to showcase the open source community's expertise and innovation. This year's event will take place in Bilbao, Spain September 19-21, with co-located events held September 17-18. 
The post Why You Can't Miss This Year's Open Source Summit Europe appeared first on Linux.com.