Author: Mirko Boehm
Source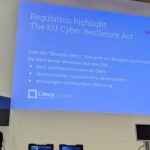 And will it help EU digital sovereignty?
Much has been written about the potentially damaging effects of the draft EU Cyber Resilience Act (CRA) on the open source ecosystem (BitKom, Eclipse Foundation, VDA, OSBA, Linux Foundation – this post is based on a draft of the CRA from September 15, 2022). In this post, we are going to look at the CRA from a different perspective: As a part of the EU cybersecurity strategy, the higher-order goal of the CRA is the further development and strengthening of the integrated EU single market. Since open source software is the foundation of nearly every modern digital product, influencing how the open source ecosystem operates will be felt by the European businesses and citizens. Will the CRA be conducive to EU ICT policy goals? 
The post Will the Cyber Resilience Act help the European ICT sector compete? appeared first on Linux.com.